Uniform styling is as important as hiring the right workers to deliver exemplary customer service in any hospitality business. Uniforms are chosen from the personality of the business or the appearance most attractive to their target market. Say, for example, a fine dining restaurant cannot rely on a T-shirt for its staff to attract high-end customers.
It is important that your staff can move freely and with ease even in the most hustling days. It is also equally important to opt for uniforms that reflect the image of your business.
These are factors to consider when hospitality wears –
Reno Panel Shirt – For a Sharp and Clean Appearance
If you want your front-of-house staff to look sharp and professional, opt for the Reno Panel Shirt. It made of 55% cotton that provides comfort and breathability, blended with 45% polyester that creates resistance and durability. This shirt encourages the skin to breathe and absorb sweat easily, making running and serving customers a breeze for your staff.
A uniform that keeps you fresh, keeps you feeling sharp and clean. A staff that looks hot and bothered is distracting and unprofessional to the eyes of any customer.
You can also accessorise this shirt with waistcoats if you want a more upscale look and feel.
Edge Polo – Easy to Pair Collared shirts
If you find yourself needing to bridge the gap between a professional and casual look, consider polo shirts. Polo shirts are ideal for urban venues, where having a contemporary appearance is everything.
If you operate a business in a highly urbanised set up, and you want a professional and casual look in the fast lane, the Edge Polo, a classic style polo with a twist, is a reliable and comfortable option for your staff. Usually, the staff can pair them with pants of their choice. Add your logo and your business get a free advertising while your staff go around their day-to-day.
Preston Shirt – Dark for Sleek and Sassy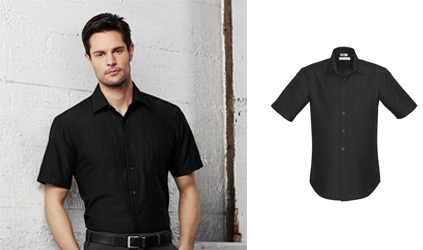 Preston is a classic business shirt that offers function and style. It is the likely option for a professional establishment, catering to a wedding or formal function. They prefer primary colours (black, navy, or midnight blue), paired with secondary colours (white or beige).
Hemingway Shirt for the Confident and Trustworthy
The Hemingway shirt exudes staff confidence. It helps them walk with pride while feeling cool and friendly even during a busy day.
This cotton rich fabric is comfortable and breathable, with the added durability of polyester. The rich, jewel-tone options sit perfectly with your business logo.
This shirt can also be used to identify staff position by utilising colour combinations in the workplace.
Berlin Shirt – For a Stylish and Professional Look
Refine your staff's workwear for a corporate event with these fashion-friendly series. Australia is a country that love's fine dining, cafés, and coffee. Urban venues are setting up a standard in seeking the most stylish and professional yet functional uniforms.
For your upcoming yearly allocation uniform, you might want to try the above collection or check more of our collection HERE.
Contact Corporate Uniforms & Workwear today at 08 8342 9422 and request for a quote.
Or, you can visit us at Shop 2, 316 Main North Road Prospect, SA 5082.