Working during winter can be quite difficult due to the cold. If you do not feel comfortable, then you cannot work in your maximum capacity. This is where beanie caps come in. They provide ample protection from the cold during the winter and they can look very professional as well.
At Headwear Professionals, we can help in customising your corporate headwear including caps. One way to do this is to emboss your company's logo on the front so that everyone knows who you are working for. We can also use your company colours for even better branding of your trendy beanie caps.
Choose from the different designs and styles that we have on hand to fit your needs. We have offerings made from various materials.
Acrylic Beanie
This one has an imprint area of 50mm high and 100mm wide which is perfect for your logo. The method used to imprint is embroidery.
Roll Down Cable Knit Beanie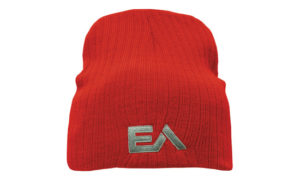 A roll down style beanie, this is knitted cap offers great protection from the elements. It comes in a wide variety of colours and can imprint logos using embroidery.
Printable Beanie
This is probably one of the most unique beanie caps we have on hand due to its customisability. The entire surface area of this cap is actually printable. You can have your logo printed on a pattern for maximum brand exposure or you can create different designs to fit your needs using this beanie.
Luminescent Safety Beanie
Safety is an important factor in any workplace. This is especially true in warehouses and other workplaces where heavy machinery is involved. One way to keep people safe is to make them more visible so that operators of heavy equipment can see them properly and avoid when necessary. This is why the luminescent safety beanie caps offer your company. It comes in bright green or orange colours to maximise the visibility of the wearer.
Of course, you can still choose to customise this with your own logo. It has a 50mm by 100mm imprint area where we use embroidery.
Cotton Beanie
Now if you are looking for a material that can make use of different imprint methods, then the cotton beanie is for you. It has a slightly larger imprint area than others coming in at 55mm by 100mm. But what makes this stand out is the fact that it can use plastisol transfer or thermal vinyl print as an imprint method. Of course, these beanie caps can still use the tried and tested embroidery.

Fleece is great for outdoor clothing due to its ability to resist moisture. It is also very durable and can withstand everyday wear and tear. This is what the microfleece beanie is one of our more popular caps. It is also thin and very breathable so it is comfortable to use.
Ready to Order your Beanie Caps?
Are you ready to keep your team warm and productive? With our huge range of headwear collections at Headwear Professionals, we can definitely fulfill your unique needs. Feel free to discuss your requirements at Corporate Uniforms and Workwear or call us on 08 8342 9422.